Being an initiative for farmers' welfare, Campco believes that partnering with top-notched organizations and companies can go a long way to benefit our farmers.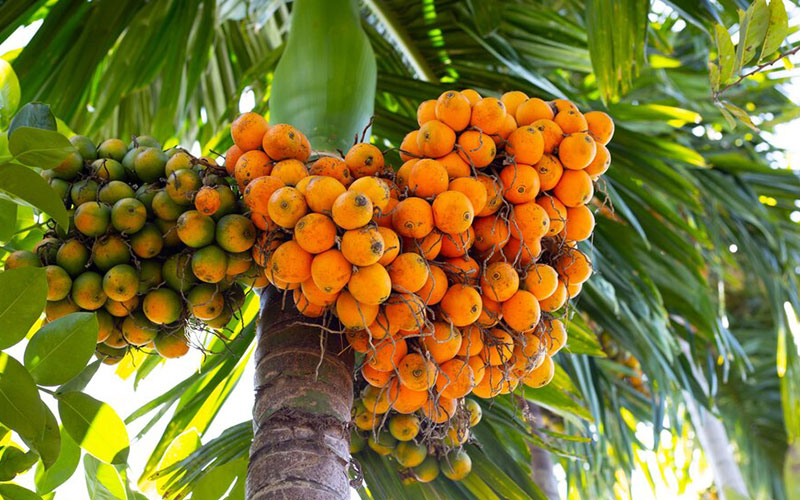 Areca
Well known as betel nut in India, Areca nut is not a true nut, rather the seed of a fruit that is categorised as a berry. It is produced in large quantities in India and hence exported to other countries. The plant is grown in clay soil, laterite, alluvial soil and red loam.
There are two abundantly available varieties of Areca nut called White Supari and Red Supari. The white variety is prepared by harvesting ripe Areca nut and sun-drying it. The red variety is prepared by harvesting the tender(green) variety and removing the husk. Each variety has its own market and is consumed by different people in various parts of India.
CAMPCO entered the Arecanut market in November 1973, and within a short period, the Cooperative was able to bring the market to the pre-fall level. With its reasonable and effective procurement, sales policy and efficient business administration, CAMPCO has assured the Growers of an economical price for their produce. Thus, by the operations of CAMPCO, the Growers are now getting a highly remunerative price for their produce, and CAMPCO has been quite successful in stabilizing and maintaining the Areca market at a very economical level, thus improving the economic conditions of Areca Growers. CAMPCO started procurement initially in 5 centers only, and today, it operates through 118 procurement centers throughout the states of Karnataka and Kerala. It  operates through 14 sales depots in almost all the states in India at different places